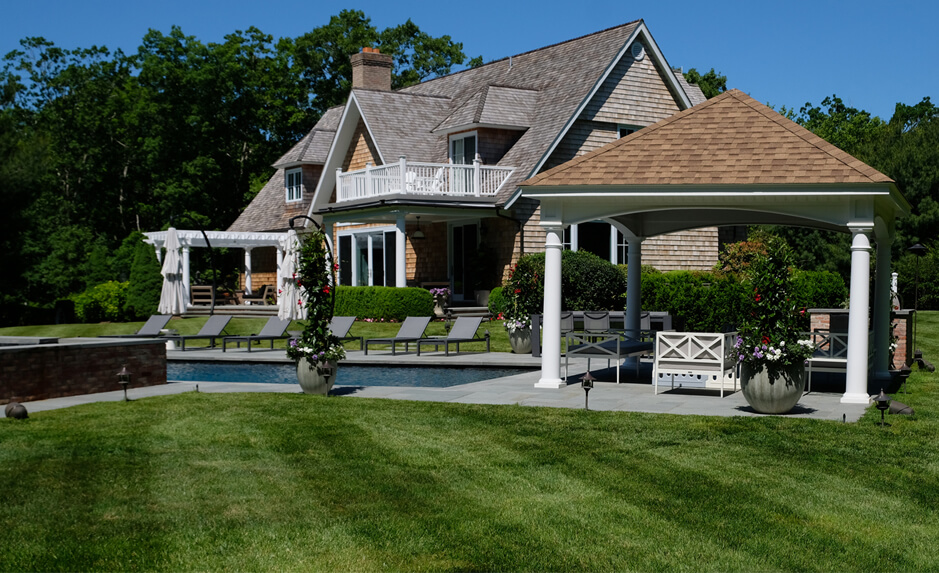 Real sample of our work in East Hampton, NY
Hello! My name is Neftali Gonzalez. After 20 years of experience working as a landscaper in the Hamptons, I opened my own company – MANDEVILLA LANDSCAPING. I pride myself on being an expert on the types of flowers, trees, plants and shrubs that grow best in the soil and climate of the Hamptons. I am happy to advise all of my customers on how to create the lawns and gardens of their dreams through careful design and planning, and regular maintenance.
A well-kept garden is a colorful and welcoming haven of relaxation; a wonderful addition to your property. Not only does it provide a beautiful view from every window, it increases the value of your property significantly. Most of our customers are simply too busy, or they find it too difficult to maintain their own gardens. At Mandevilla Landscaping, we are more than happy to assist with weekly lawn maintenance & clean-ups that keep your property flawless and beautiful year-round.
We serve most areas of the Hamptons, from Montauk to Southampton. My team of skilled laborers specializes in landscaping, however, we also own the necessary tools and equipment for other types of related services. We are happy to provide snow-plowing services in the winter, if needed.
We also provide Bobcat services which might include land clearing, leveling of the soil, digging trenches, transportation of stone or other materials, and large debris removal. In addition, we regularly perform deer fence installations, which can be temporary or permanent, to protect the area from deer. Temporary fences to keep wildlife out of pool areas are also available, if desired.
In the Hamptons, the autumn is beautiful, but it is also the most labor-intensive season of lawn maintenance! Rest easy, knowing that we're happy to take care of all the leaves and downed branches to keep your gardens and lawns immaculately clean, tidy, and healthy.
Don't hesitate to call us! Phone: 631-680-3337, or send us an email at mandevillalandscaping@gmail.com . We enjoy being of service to all our Hamptons neighbors!
Real sample of our work in East Hampton, NY
References
"I am writing on behalf of Neftali Gonzalez who has perform extensive landscaping services and maintenance for my property located in East Hampton for many years.
Neftali is a consummate team player, he will to tackle any task asked of him, including precisely maintaining my property, keeping my tree and flower beds in perfect condition, trimming of privets as well as performing shrub and tree planting and tree maintenance I have required over the years.
He is accessible, responsive, knowledgeable and totally committed to design intent, details, and client satisfaction. An advantage for any architect is to collaborate with a landscaper contractor who is passionate and informed about landscape, Naftali is both.
I recommend him with conviction and sincere respect."
Joseph Kusnick, Architect | President
——————————–
"That's amazing!
You have been a great employee.
We will get you out a recommendation this am. "
Mr. Ferrin